Graphic Photos Show Tiger From Ringling Bros. Shot Dead
Graphic Photos Show Tiger From Ringling Bros. Shot Dead
Written by PETA |
Through a public records request, PETA has obtained graphic photos of the tiger who was shot and killed in Henry County, Georgia, after Feld Entertainment—Ringling Bros. circus's parent company—allowed her to escape.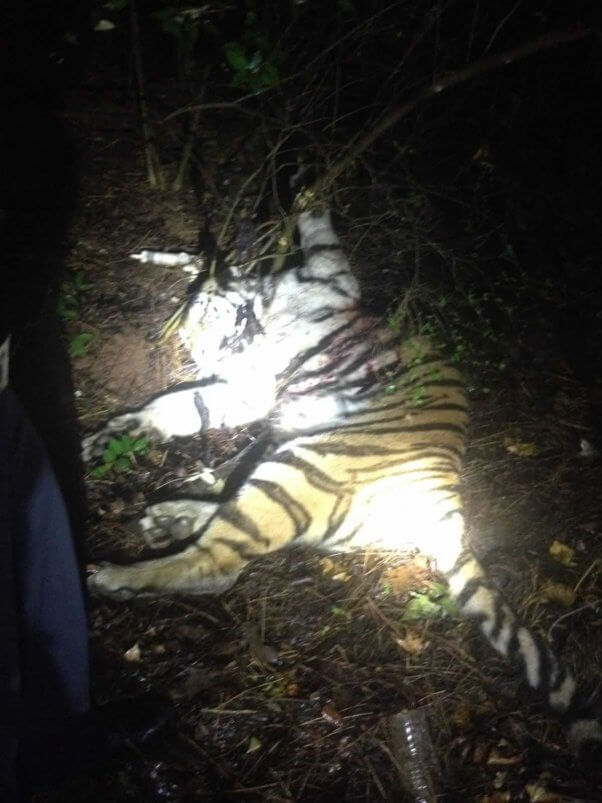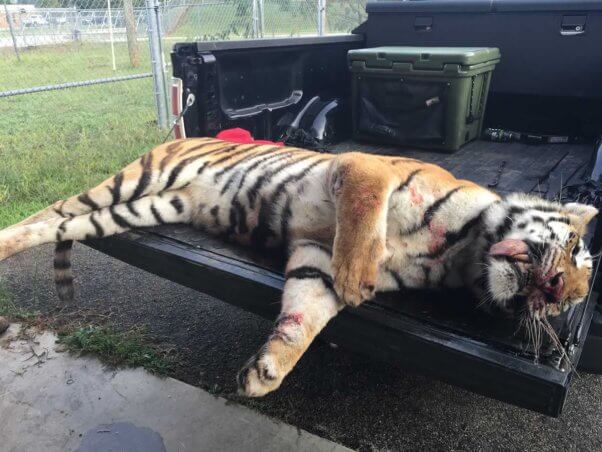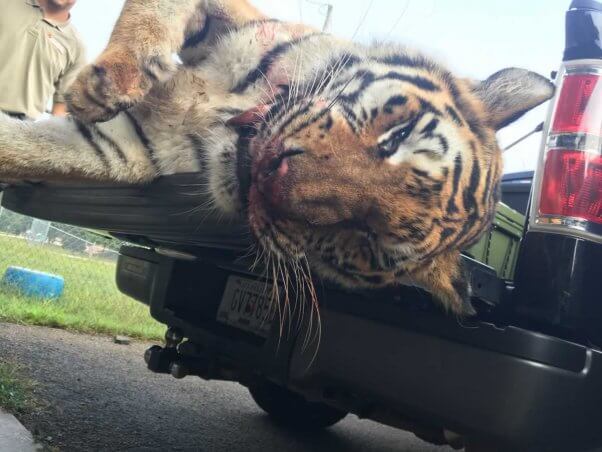 The tiger, Suzy, was being transported along with 14 other big cats used by Ringling—lions, tigers, and a leopard, all of whom are legally entitled to the protections of the Endangered Species Act (ESA)—to be exported to Europe to be used in circus acts. The U.S. Fish and Wildlife Service (FWS) issued the ESA export permit despite objections by PETA and thousands of concerned people, who pointed out that Feld did not meet the legal requirements for a permit: Exporting imperiled animals for use in circus acts doesn't contribute to the species' survival in the wild and may even harm legitimate conservation efforts.
"This tiger wouldn't have been gunned down in the street if Ringling's parent company hadn't tried to squeeze another dollar out of her by shipping her off to an overseas circus," says PETA Foundation Vice President and Deputy General Counsel Delcianna Winders. "These heartbreaking photos show why PETA is calling on federal authorities to stop issuing permits to animal exploiters."
FWS issued Feld's export permit in exchange for promised payments to conservation groups. FWS routinely issues permits on a "pay to play" basis, including a permit issued to the Tarzan Zerbini Circus to transport Asian elephants to Canada in exchange for promising to temporarily donate less than 1.5 percent of its profits to Asian elephant conservation.
Even though the notoriously abusive Hawthorn Corp. has racked up nearly $300,000 in fines for violating the federal Animal Welfare Act and has had its exhibitor's license suspended twice, FWS issued it a permit to export tigers overseas. To justify the permits, Hawthorn sent a lobbyist with no conservation experience or scientific training of any kind to work with a tiger-conservation organization. The chief of the Division of Management Authority at FWS told staff, "[The application]'s weak, but I say we accept it and let's get the permits out."
PETA Catalog
Visit PETA Catalog
PETA's Milestones for Animals